Professionals at Splaine Security have
been protecting homes and businesses in
the Washington area since 1977.

Nobody knows the Washington DC area like we do.
Better quality and better trained technicians.
We invest in our employees with on-going training and have managed to attract some of the best technicians in the DC area. This training has a cost, but it means that our technicians are current with the latest technologies. In the long run it costs less to have properly trained technicians. All of our employees have passed rigorous background checks by the Virginia State Police, The Maryland State Police, The FBI and the TSA. Our average employee has been with the company for 12 years, so we know our people. They really are like family to us. All employees are held to the highest standards and will treat your property as such.
Better equipment.
We are the signature Napco Dealer for the Washington Metro Area. Napco is used on Air Force One, at the Verizon Regional Switching Centers, Amtrak and built to military specifications. Napco has the top rated main control panels as rated by the independent security dealers in the United States. This means better reliability, fewer service calls, greater resistance to false alarms and longer service life. Over time Napco Security Systems will save you money compared to "discount" systems.
Eight years in a row 2007, 2008, 2009, 2010, 2011, 2012, 2013, 2014 SPLAINE SECURITY SYSTEMS, Inc. receives top rating for Overall-Performance from Washington Customer Checkbook, a non-profit consumer information and service resource publication serving the Washington Metropolitan area.
ADT Security
MD VA DC
54% rating
American Home Security
MD VA DC
43% rating
Burtel
(Now ADT Security w/54%)
Brink's Home Security
MD VA DC
53% rating
(Brinks became Broadview, Broadview sold to ADT)
Cain Security Systems
MD VA DC
71% rating
(Now Vector Security w/57%)
Guardian Protection Services
MD VA DC
49% rating
Honeywell Home Security
MD VA DC
40% rating
Sentry Installation
MD VA DC
41% rating
(Now Alarm Security Group, ASG)
SPLAINE SECURITY SYSTEMS, INC.
MD VA DC
97% rating (√)
Vector Security
MD VA DC
57% rating
Better monitoring.
As an independent security firm we have a choice of any monitoring firm in the United States. Our choice has been Emergency 24 which has a local office here in Silver Spring, Maryland. Emergency 24 has 5 offices nationwide that are connected with redundant frame relay ISDN networks with multiple carriers to insure that phone calls will get through even if there is a spike in call volume at one of their central stations. They exceed UL ratings for call centers. They train and pay their operators at higher levels than most of the national firms so you will be speaking with quality technicians if your system is triggered. We call every time the alarm is set off and provide you with a duress code.
Better customer service.
We treat our customers how we like to be treated. We are consistently rated at 95% to 97% customer satisfaction by Consumer Checkbook while the national firms have ratings that range from 40% to 60%. When you call our office you will be speaking with a trained security professional and you will never reach an annoying automated phone system.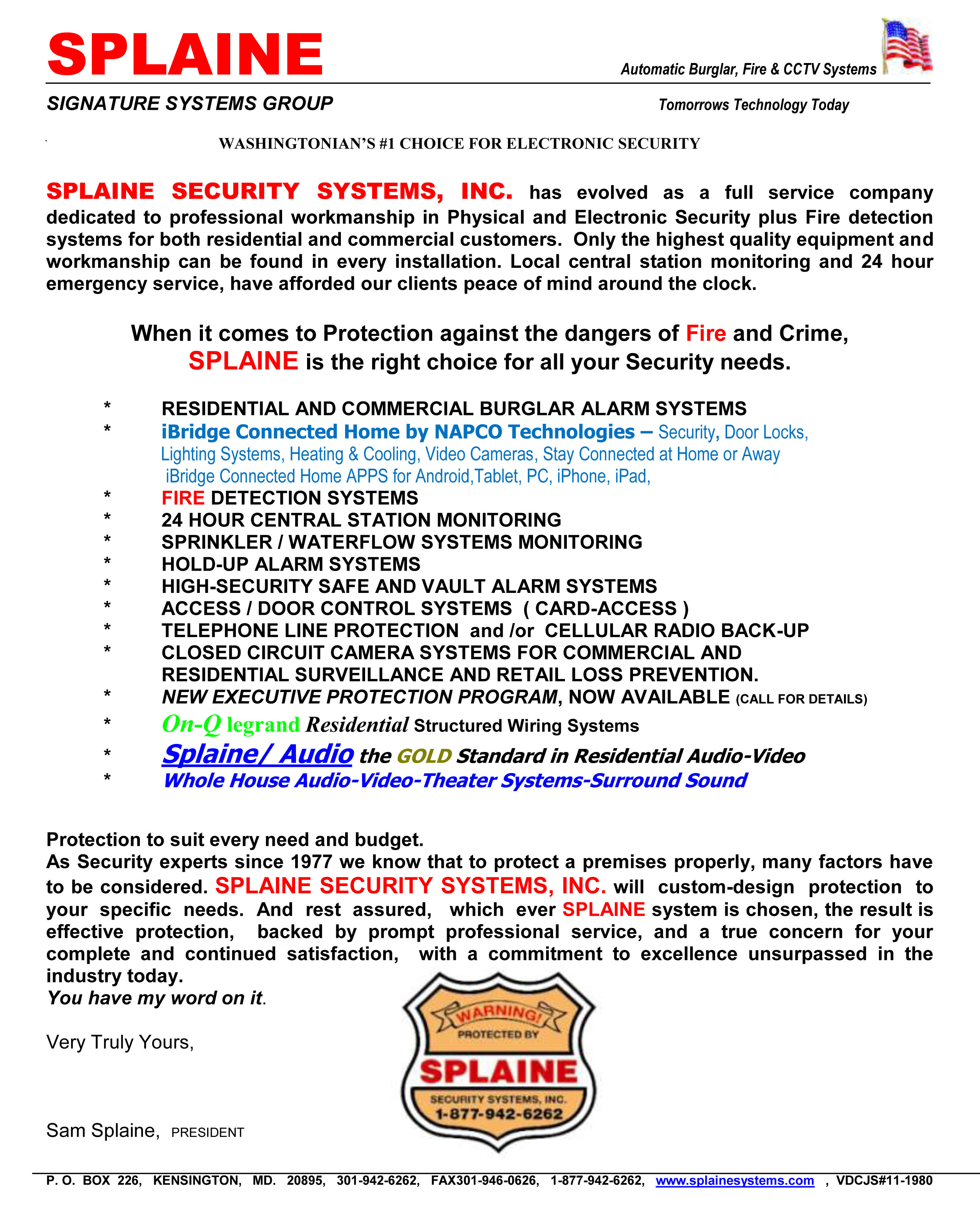 Splaine Security Services offers the highest quality business security, home security, fire protection, and home audio installation services to businesses, government organizations, and individuals throughout all of the DMV including Washington D.C., Prince George's County, Montgomery County, Howard County, Loudoun County, Fairfax County, Arlington, and Alexandria.