CCTV MONITORING
WE CAN DESIGN AN AFFORDABLE CCTV SYSTEM TO FIT YOUR NEEDS.
WE ARE ONE OF THE FEW FIRMS IN THE DC AREA THAT CAN COVER THE ENTIRE
RANGE FROM SMALL RESIDENTIAL SYSTEMS TO HIGH END COMMERCIAL SYSTEMS
THAT YOU WILL FIND AT AN EMBASSY OR AIRPORT.
OUR PRICING IS VERY COMPETITIVE AND THE SYSTEM WILL BE DESIGNED BY A
TRAINED SECURITY PROFESSIONAL.
WHY SHOULD YOU CONSIDER CCTV?
Deterrence.
Cameras and Closed Circuit Television (CCTV) protection promote safety by deterring criminals away. The presence of a camera is enough to stop a burglar or shoplifters in his or her tracks from even entering certain locations.
One of the key things here is to make sure people are certain their behavior is being captured on a CCTV system. At the front door of a store or restaurant we like to set up a face camera and a large monitor that shows that the camera system has a clear picture of everyone's face when they first come in. Most shoppers will just notice that there are cameras. However, people that are planning to shoplift or even armed robbers will notice your CCTV cameras more than the average shopper. These people know that if they commit a crime there will be a clear picture of their face and they will probably get caught. If you still wonder if cameras deter crime, you need to look at every 7-11, bank and McDonalds in the country. Every one of these businesses has CCTV cameras because they deter crime.
---
Make Customers and Employees Feel Safe.
If everyone knows there is a working CCTV system, it can make people feel more safe. Sometimes we will install a monitor that shows the actual images the cameras are recording. When thieves or other trouble makers see themselves on camera – it adds another level of deterrence.
Prosecution of Criminals.
Thieves and shoplifter that are caught on camera can often be identified and video evidence holds up well in court. Cameras are the best eye witnesses of a crime because they have no biases and they never get tired or fall asleep. They are passive systems that work all the time. When police officers come to a crime scene one of the first things they look for is the presence of surveillance cameras. Police will tell you that, "Surveillance cameras are the perfect eye witness." Even in a blatant shoplifting situation most people will make up all kinds of excuses to try to wiggle out of getting caught. Without video evidence many crimes can end up in a "he said she said" situation. This video evidence must be have a time and date stamp, an electronic watermark and very clear images to hold up in court. This requires a professional grade system.
Protecting the Innocent.
Video evidence may be the only way to prove you are innocent if someone (or two people working together) decides to file false criminal or civil charges against you. The cost of a lawsuit can be in the millions of dollar and a false criminal charge can destroy a person's career, business and reputation. CCTV systems do an excellent job of protecting the innocent. It may be the only eye witness you have because they are always there 7 days a week 52 weeks a year.
Monitoring and Intervention.
In schools and businesses we often install monitors where key employees can keep an eye on what is happening in multiple locations. Remote locations like the rear loading docks, parking lots and "hot spots" are often excellent locations for a security camera. If something does not look right the employee can call the police or take the appropriate action.
THE BASICS OF
CLOSED CIRCUIT TELEVISION SYSTEMS
Digital Video Recorder (custom designed computer controls images from multiple cameras)
Large hard drive stores images for at least 30 days
Motion detection: camera set to record when motion takes place in its field
Option to burn images to CD or DVD, or recorded onto a flash drive
DVR connected only to users with necessary software, login and password
DVR images can be viewed remotely with smartphone or computer
Basic system 1 to 8 cameras
Commercial system 4 to 16 cameras
Digital Video Recorder
Most of the systems we install use a digital video recorder which is basically a computer that has been custom designed to record video images from multiple cameras. It usually has a large hard drive and we like to store images for at least 30 days in case there is a problem that takes time to identify. There is a motion detection "front end" that we can set for each camera that only records when there is motion in the images. There will a time and date stamp, an electronic watermark, and images can be burned to a CD or DVD or recorded on a flash drive to provide evidence for the police. The DVR will be connected the LAN and only the users that have the necessary software, login and password can see the images on their desktop computers. There will be an Icon on the desktop and the office manager can immediately see the cameras images by clicking one button with their mouse. At this time we still prefer DVR's over on line storage of images because the DVR's have better motion detection software and larger hard drives which permit the storage of more images and higher quality images. For high security applications we can back up the hard drive with off-site storage. DVR images can be viewed remotely with I-phones, Blackberry's, Droids, and laptops.
Basic Surveillance Systems
For many residential applications we use a basic system with 1 to 8 cameras. We often want a picture of who is coming to the front door so the homeowner can screen the person before they open the front door. Also if a burglar is wants to see if the home is empty it is legal for them to come to the front door and knock loudly as well as ring the doorbell. When a potential burglar knows that their face has been captured by a security camera, they usually choose to go somewhere else. The remaining cameras often can be positioned around the side and back of the home. If there is a swimming pool it is a good idea to have a camera covering this area. The cameras can be viewed in real time or with the recorded images on the computers in the home or remotely as long as you have high speed internet service.
Commercial Systems
There is a full range of Surveillance Systems for businesses that can range from a 4 to 16 camera system up to a 255 camera system which connects to the main servers in the customer's server room. For many customers with less than 16 cameras we often record to a digital video recorder which is connected to the LAN as a device or seen as essentially another computer. For the larger systems the cameras that can be fully integrated with security system, access control and transaction systems where a digital picture is taken of every customer that pays at the cash registers. Whatever system you need we will meet with you to define your needs, design the system and write a proposal that satisfies your requirements while keeping a close eye on the costs.
Indoor or Outdoor Dome Camera
These cameras are located in a Vandal Resistant Domes usually made out of a tough polycarbonate plastic. They have a dark interior that hides the exact location of the camera lens – so people only see the housing and are not sure if the camera is pointed at them. They are good for stores, restaurants, classrooms and other areas where a camera could be vandalized or re-aimed. We often install these near the front door of a home. The Dome cameras we use have internal Infra Red illuminators which permits them to view in total darkness.
Bullet Sized Outdoor Cameras
These are usually indoor/outdoor rated cameras about the size of a can of Red bull. A quality bullet sized camera can match the quality of the large outdoor rated cameras from a few years ago because of the advances in micro-chip CCD's, Infra-Red LED's, and aspherical lens technology. These cameras offer a cost effective method of achieving a high quality image with a relatively small camera.
Megapixel and Special Purpose Cameras
There are applications where one megapixel camera can do the work of 3 or 4 conventional cameras because they capture so much detail. There are special purpose cameras that can see a variety of things for high level security applications. If you have special applications we can design a custom system to fit your needs.
IP Based Cameras
These are the latest generation of digital cameras that communicate directly over a LAN or Wan essentially acting like a computer on an Ethernet based network. The camera usually has built in motion detection and can even work on a wireless network. They work particularly well on both a small LAN as well as large WAN networks for applications in places like a college campus with 1,400 cameras. Conventional Analogue Cameras can be converted to IP based systems with a digital IP-converter which permits customers to convert older camera systems to new IP based systems. We can often integrate older cameras with new IP based cameras into a fully functioning Hybrid system which will extend the lifespan of the existing equipment.
HIGH DEFINITION VS. HIGH RESOLUTION

SURVEILLANCE SYSTEMS
---
HD
In the case of video surveillance, HD cameras are measured in mega pixels. 1 mega pixel is equal to one-million pixels. When you compare a high resolution 540 TVL camera to a high definition camera, keep this in mind; 540 TVL = .4 mega pixels. This means, that the resolution of a 1 MP camera is 2.5 times greater than a 540 TVL camera! When you consider that most high definition cameras are at least 2 MP, there is a HUGE difference in clarity. The bottom line is, the images from an HD system are significantly better than those from an analog system. This means that you are more likely to be able to recognize/identify a person or vehicle via an HD system than a high resolution system.
So, who buys HD security camera systems? The price comparison is about as drastic as the quality comparison. An HD system will run you 2 to 3 times the price of a standard high resolution (analog) system. Needless to say, they are pretty pricey. Though historically, banks and detention facilities were the main user of HD systems, residential and small commercial use is becoming more prevalent. We also install HD systems in homes and city government facilities.
---
HIGH RESOLUTION (ANALOG)
Analog security camera systems are very common. As stated above, they are much less expensive than an HD system. So, why (other than budget) would someone opt to purchase an analog system over an HD system? Standard high resolution systems are a cost effective way to "monitor" a location. When using security cameras only to monitor, the user does not need to positively ID a person. They may be monitoring their office,employees, pets or domestic help and they do not have a need to have facial recognition. Why? Because they KNOW who it is in the video. They are simply monitoring the activities. The problem is, when someone they do not know enters the picture, the images may be useless to the authorities. That being said, a good high resolution system is better than no system at all. Many a crook has been caught with this type of security camera!
Something to consider; The DVR that is used for HD is different from that of an analog system. But, sometimes both types of cameras are needed in order to have quality images as well as meet a budget. In this case, we install a hybrid DVR. This allows the user to have HD cameras in critical areas and have analog cameras in areas the wish only to monitor.
Who buys the analog security camera systems? Home owners and businesses who have a limited budget or who have little or no need to have very high quality footage.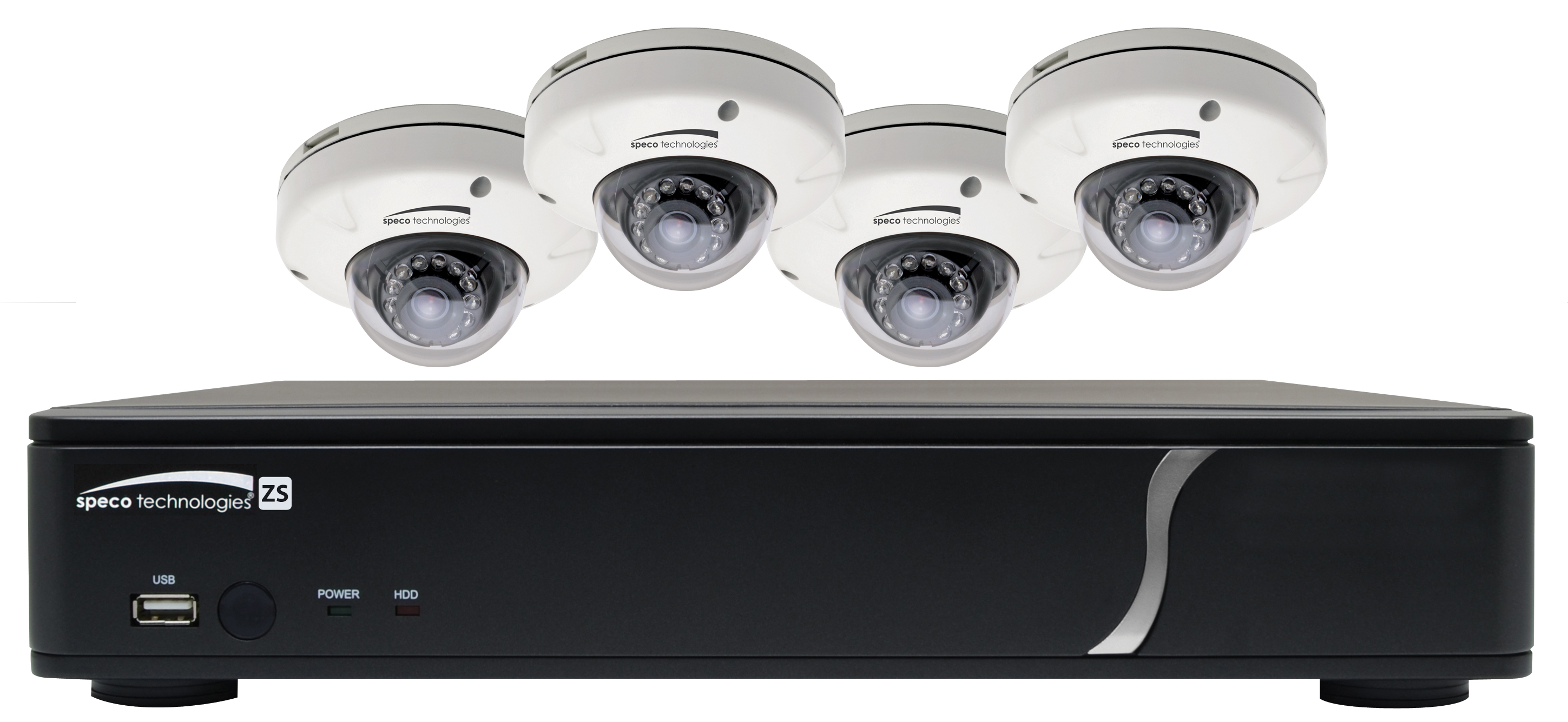 HIGH DEFINITION (HD) VIDEO SURVEILLANCE BUNDLE
NVR FEATURES
EZ Set-Up Wizards: one click wizard guides you to set up essentials of the system in a logical and easy to understand sequence. – Date/Time – Recording method – Recording video quality – Network – Port forwarding
EZ Camera: quickly discovers and installs IP cameras
EZ Search: quickly search events from thumbnails
EZ Copy: auto copy what you are playing onto a USB flash drive

• Video Out: 1 HDMI®, 1 VGA, 1 CVBS
• Plug & play feature with Speco's IP cameras
• Dual network ports for isolating IP camera network and remote network traffic
• Network video recorder with free Speco DDNS server
• Digital Deterrent® for triggering audio message via motion detection or sensor
• 2-way audio communication
• Full HD (1920 x 1080) recording and playback
• Switch between low and high quality stream during simultaneous Continuous + Motion or Continuous + Sensor recording modes for storage optimization
• Built-in S.M.A.R.T. Technology (Self-Monitoring, Analysis and Reporting Technology for HDD)
• Remote monitoring / recording / playback / configuration / software upgrades and PTZ control via internet
• Supports multiple PC based browsers such as Internet Explorer, Google Chrome, Firefox and Safari
• Network accessible via SpecoTech Multi-Client Software, SecureGuard® CMS and Speco Player Mobile Viewer • IR remote control and mouse included
• PC and MAC® compatible
• 3 year warranty

CAMERA FEATURES
• 3.7mm fixed lens
• Real-time video up to 30fps
• PoE IEEE 802.3af
• Dual streaming
• Weather/vandal resistant
• IP66 compliant
• 2 year warranty


HIGH RESOLUTION VIDEO SURVEILLANCE BUNDLE
DETAILS
EZ Set-Up Wizards: for quick system setup
EZ Network: for quick set-up on a network
EZ Search: quickly search events from thumbnails
EZ Record: quickly setup recording resolutions and recording type
EZ Copy: auto copy what you are playing onto a USB flash drive

• 16 channel DS digital video recorder with 960H real-time recording
• Video Out: 1 HDMI, 1 VGA, 1 BNC, 1 Spot
• Networkable DVR with free DDNS server
• Easy and simple graphical user interface
• Digital Deterrent® for triggering audio message via motion detection or sensor
• 2-way audio communication
• Programmable recording on motion detection, sensor, schedule, continuous and manual
• Real-time recording rate at 240FPS (8 Ch.) / 480FPS (16 Ch.) at 960H/D1
• Supports wireless access point for viewing and configuration
• Built-in S.M.A.R.T. Technology (Self-Monitoring, Analysis and Reporting Technology for HDD)
• 8/16 channel audio recording
• Covert camera operation provides enhanced security and administrator control
• Password to secure installation authorization
• Easy firmware upgrade by USB port or network
• User Access: up to 4 concurrent users
• Remote monitoring / recording / playback / configuration / software upgrades and PTZ control via internet
• PC and MAC® compatible
• Supports multiple PC based browsers such as Internet Explorer, Google Chrome, Firefox and Safari
• Network accessible via SpecoTech Multi-Client Software, SecureGuard® CMS and Speco Player Mobile Viewer
• Rack mountable (hardware included)
• 3 year warranty

Splaine Security Services offers the highest quality business security, home security, fire protection, and home audio installation services to businesses, government organizations, and individuals throughout all of the DMV including Washington D.C., Prince George's County, Montgomery County, Howard County, Loudoun County, Fairfax County, Arlington, and Alexandria.